In 1983 I started selling copiers for Xerox in Europe as the Xerox 10 Series came out. Before opening my first dealership in San Diego (Color Systems) in 1994, I had sold the first color copier, the first digital color copier, typewriters, fax machines and even facility management. At that dealership I watched as copiers became printers and by my second dealership (Imaging Technologies) we were servicing any existing printers on a per click basis. As our industry evolves and grows our sales force can adapt and sell just about anything. Change is the only constant! I'm confident the next transition will be to Managed IT and our Mission is to ensure our dealers come out on top.
With COVID-19 changing the way people work and click volumes down, today the growth we see at clients is in Managed IT.
In the webinar above John Schweizer from ConnectWise and Chris Ryne from GAP talk about what's needed to move in to Managed IT. I encourage you to watch the 60 minute video, if you don't have time here a couple of key takeaways;
There are 6,000 companies using a ConnectWise product world-wide. If you look at the 10 largest, 6 of them are copier companies here in the US. No question that our channel is set to own this market.
Your average customer has more IT business potential than copiers/printers.
Adding Managed IT is like adding another line, not that complicated.
Don't start from scratch, either acquire or partner. GAP can help you acquire.
Ricoh and Konica both have partner options.
GreatAmerica and ConnectWise are the most popular options.
Today 29.7% of CEO Juice clients are using some ConnectWise product. For the 60% that do not, we think now is the time. GAP is another great resource. See some of the acquisitions they set up here.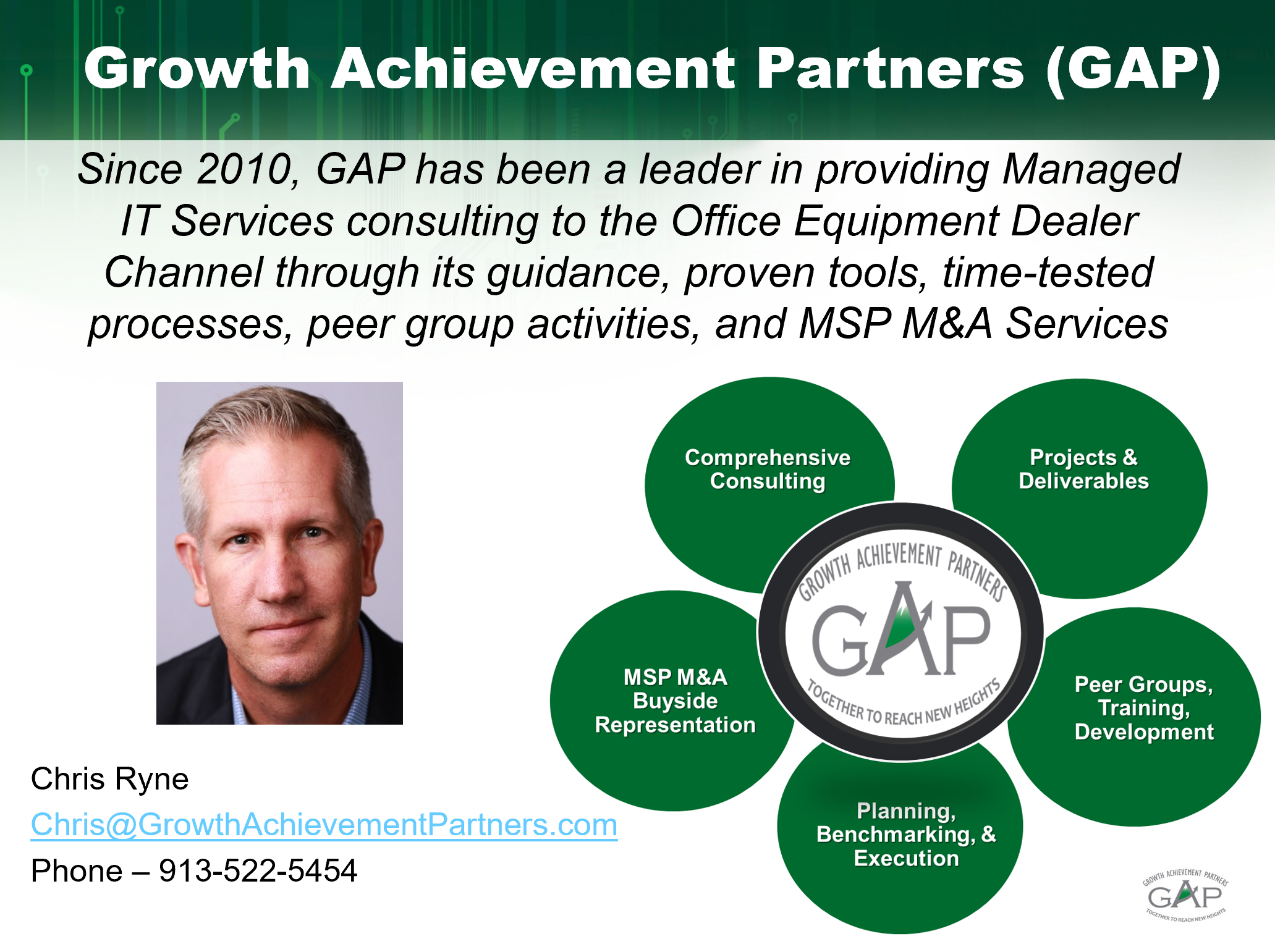 We can also help you market Managed IT to your existing clients, process like ID789.
We rolled out our process to sync ConnectWise Manage with eAutomate in the last few months, click here for details. We talked to most of the top IT dealers as we determined how to build that sync. A key takeaway is that to build a scaleable business, monitoring software to auto bill and track your customer's installs is key. Just like using tools like FM Audit for meters.