First Quarter Updates
Q1 development was mostly about ConnectWise integration expansion, DCA support, Dashboards and HP Amplify reporting.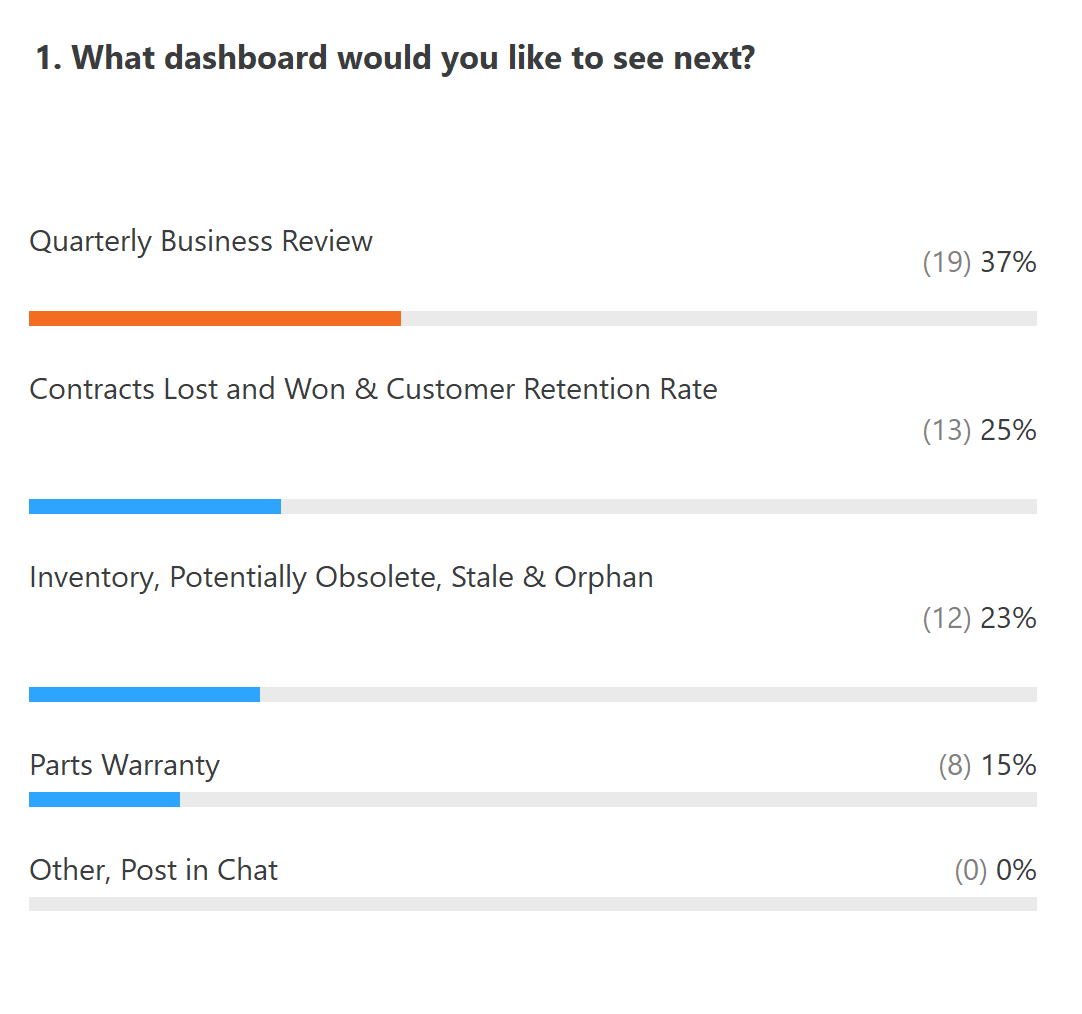 New Processes
We are starting phase 2 to expand this reporting May 5th.

ConnectWise Integration Updates
Added the option to insert companies into CW from eAuto, either at start or as needed for calls.

Added support for CW Manage site syncing.

Support for deposit based contracts

Additional support for syncing tickets with multiple bill codes.
Adding support for "moving calls" with ID912 in Q2
As CW development is close to finalized we are moving on to AutoTask.
PowerBi Updates
ID771 Power BI Service MIF & Profitability Dashboard. We added tech Productivity, tools to see what Covis has done, tools to review a tech's performance, burden rate checks.
ID704 Power BI Financial Performance Benchmarking (The Model) Power BI Dashboard, added the Bering McKinley (BMK) model. Let us know what other models you want.

Focus on allowing clients to build / customize their own dashboard with just the data they care about.
We asked you where we go next on dashboards and the answer was our quarterly business review. Expect that in a dashboard in Q2, looking to add DCA data also so the rep can review that.
PBI Revision Updates
ID900 Adding Bering McKinley (BMK) Model for Managed IT.
DCA updates
ID968 is our process to get emails into eAuto, regardless of source, email replies, emails from devices, 3rd party DCAs
Expanding support for HP Action Center
Q2 focus is on predictive data.
The DCA data we want to show in the QBR dashboard would include;
Equipment not under contract that could be using your toner
New competitive equipment
Equipment you are paying to have monitored by DCA but not on contract with you
Note, we can only show data in the QBR if your DCA is connected to our tables via ID968 above.

Juice Website
We have one developer (Doug) full time rebuilding our site for most of Q1 and will continue well into Q2. Expect some cool updates in Q2.

See 2020 updates here

Give us feedback in the comment section below please.