CEO Juice announces the winners of the NPS awards for 2021!
Satmetrix, the company behind Net Promoter Score, defines World Class Service as a NPS score of 70 or greater.
CEO Juice is highlighting the top 10% of our clients using this system and the rare occurrence of a "Perfect Score". We have been calculating Net Promoter Scores for our clients since July 2010. In 2021, we sent over 2-million (2,275,960 to be exact) surveys with 216,313 actual responses from your customers (details).
We strongly believe a focus on improving customer satisfaction will have a dramatic impact on the success of our clients and help our industry in the transition away from paper. Our most popular survey process is after a service call, click here for a 12 minute overview (ID109).
The average US company has a Net Promoter Score of 10 (yes, ten!). Given the NPS range of -100 to +100, a "Positive" score (NPS) above 0 is considered "Good", 50+ is "Excellent," and anything above 70 is considered "World Class." (Satmetrix)
Click here to see the list of all winners for 2021. Please note, not all companies wanted to share their name and there is a requirement of a minimum of 60 survey responses for the year. Contact Juice or subscribe to ID102 if you want to start sharing, the data will auto update.
For 2021, to qualify for Top Ten is an NPS of 96.0+ (for 2020 the top 10 was 97.6 and above).
Award Definitions:
Achieving a Perfect Score in customer satisfaction for an entire year is close to impossible. In 2020 no client had a perfect score with the minimum of 60 responses. In 2019 we had just ONE client with a perfect score for the year. We had one client who achieved a perfect score for 2-years in a row (2018-2019). Imagine asking over 1,000 customers to rate your service and getting every single one to rate you a 9 or 10 out of 10?
You can see the scores by country and state here.
This year we are partnering with www.industryanalysts.com to talk to some of these award winners about what they are doing right to have such raving fans, email andy@industryanalysts.com if interested.
Gary wants to remind you on his favorite NPS quote:
"Reminder, the goal is not to have a high Net Promoter Score number, the goal is to have a bunch of raving fans as customers that makes it easy for your sales team to get more business. NPS just tells you how well you are doing!"
* * *
Share NPS Score with your customers:
1. Show your dynamic "certified" NPS score on your website like here (requires ID230 subscription).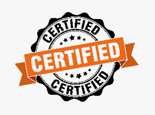 2. Include NPS award logo as signature block with a link to award details, get your logo here (requires ID102 subscription).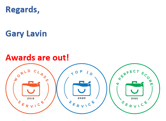 * * *
Please provide feedback below or on our LinkedIn Group.